Start ACCA after your A/L
@ Alpha Business School and be TRIPLE QUALIFIED at once
Alpha Business School, your trusted partner in ACCA, who is also accredited as an Approved Tuition Provider by ACCA, for the first time in Sri Lanka brings to you a valuable opportunity to earn not just one or two, but THREE Globally Recognized Qualifications at the same time with no extra effort in a mere 27 months. The qualification starts with an initial Diploma in Accounting & Business awarded by ACCA – UK, a Professional body & the Additional Diploma in Accounting & Finance is awarded by Concordia International University – California, USA, an Academic Institution. These two Diplomas which is equivalent to the First year of a degree program would lead to a Bachelor's Degree offered by Oxford Brooks University, U.K. which is the third qualification. The completion of professional qualification will make one a Globally recognized professional, and is done so by giving the Sri Lankan Parent the best value for money option in higher education in the country.
The Association of Chartered Certified Accountants (ACCA) is one of the largest bodies of Chartered Accountants in the world, with over 200,000 fully qualified members and over 500,000 students in our capacity. Being the most forward thinking professional accounting body, ACCA works towards creating
work ready professionals, largely sought after by employers all over the world.

The ACCA syllabus provides all the necessary skills that will help an individual to thrive in a fast changing digital landscape, who is well aware of all aspects in the world of business.
ACCA, while being well recognized and reputed globally, draws a higher attraction in the job market, which not only opens for the position of an "accountant" but many prestigious designations. The structure of ACCA is designed in a flexible way, where fast track, full time and part time programmed are available and conducted at Wellawatte, Nugegoda and Wattala by Alpha Business School, the only ACCA institute in the country with a branch network.
Alpha Business School as of now has signed a fully functioning partnership agreement together with Concordia International University, California, USA, which is one of the spearheading institutions of the Concordia Foundation, which was set up to deliver cutting-edge education that is both accessible and affordable, through its network of colleges in the USA, Europe, Australia, Canada, Korea and the Philippines. This is an exclusive agreement where the qualifications will be awarded only to students following the course at Alpha Business School.
As a result of our unique collaboration with the Concordia Foundation, upon completion of the Knowledge Level or the foundation level of ACCA, students are able to acquire two diplomas; the Diploma in Accounting and Business from ACCA and as well as a Diploma in Accounting and Finance from the Concordia International University. Moving on, students can obtain the Higher Diploma in Accounting & Finance after completion of the first three papers in the ACCA skills level and the Graduate Diploma after completing the skills level in ACCA. Alpha Business School proudly stands as the only Institute in the country to award these qualifications.
The partnership between ACCA and the Oxford Brookes University, ranked 33rd in the UK, makes it more convenient for the student to receive a Bachelors Degree in Applied Accounting after 15 months upon the completion of up-to the Skills Level in ACCA along with the submission of a Research Analysis Project.
The complete set of qualifications; Professional and Academic Diplomas, a Bachelors Degree and a Professional Qualification can be completed within the course of two and a half years, with the student being well trained in professionalism and in terms of acquired skills and knowledge can only be obtained only at Alpha Business School.
Alpha Business School provides high quality tuition for the ACCA programme. Alpha Business School is "THE" most professional institute for ACCA in Sri Lanka, brought to life by the true veterans of ACCA in Sri Lanka, who have been in the business since ACCA first launched its operations in Sri Lanka. Our panel of lecturers that includes household names in the industry such as Dr. Shaan Jayasekara, Shehan Fernando & Prasenna Balachandran, are the most sought after lecturers in the island with lecturing experience counting close to 20 years, and are the recommended resource persons by many ACCA students and members. Our friendly and interactive lecturers who have produced many world and Sri Lankan Prize winners are ever ready to address any concern that a student might face.
"Conveniently located with easy access via car, bus or train, Alpha Business School, through its effective teaching methods, mainly focuses on creating true professionals, with not only relevant conceptual skills, but also with ethics and morals which are of great significance in a true professional. To have that balance in mind and body we offer our students with a more sophisticated and a holistic experience, where we provide Gym memberships and also Swimming Pool facilities at a nominal fee," mentioned Shehan Fernando, CEO and Senior Lecturer at Alpha Business School.
"We provide approved study material to all those who enrol and provide a comprehensive revision program and hands-on Computer Based Exam Training to make the student exam ready. I also request both parents and students to select a tuition provider with a qualified and well experienced lecture panel," stated the Chairman of Alpha Business School, Dr. Shaan Jayasekara.
Alpha Business School focuses on what matters the most, the success and wellbeing of our key stakeholder, our students. With this in mind it's decided to award a scholarship to the most outstanding student who starts off with this intake to follow a Masters Degree Program which will be awarded at the Graduation ceremony in 2022. Join with us as you begin the journey of a lifetime, where we firmly believe that, true to our motto, Perpetuam Doctrina ; Learning is life long.
Alpha Business School

Phone No: 0773 654 254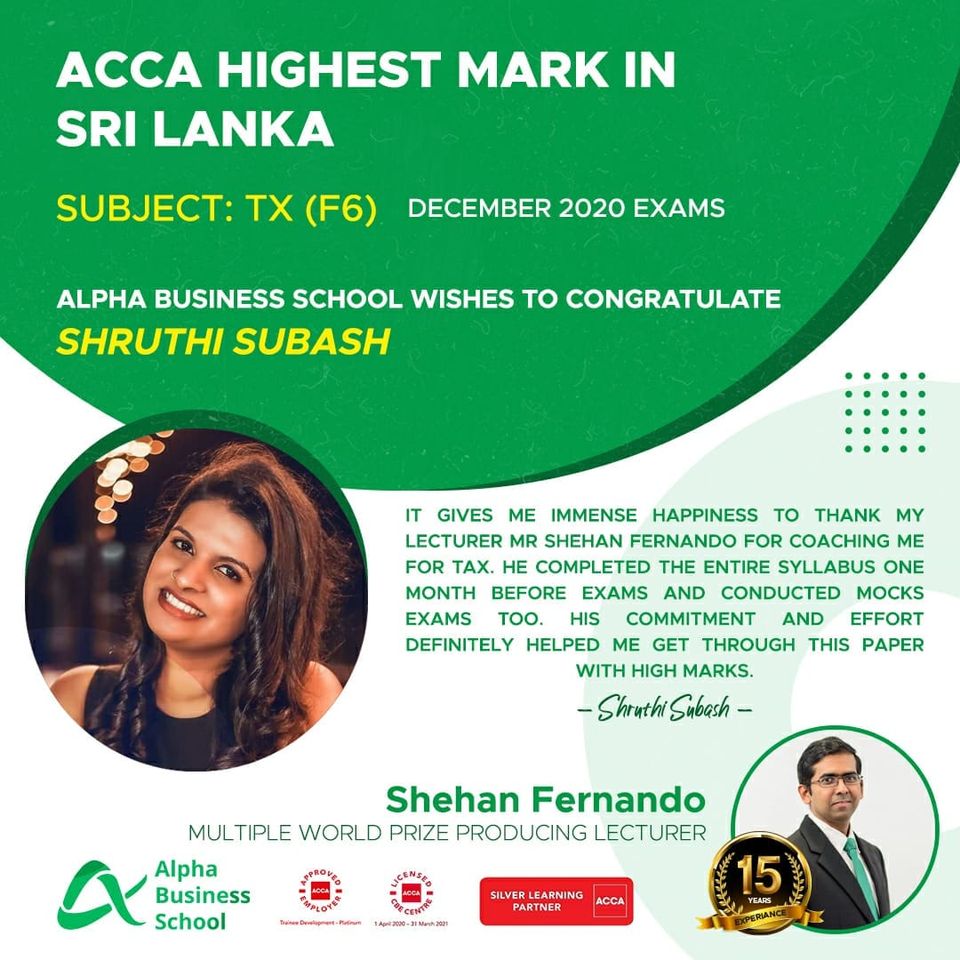 "Learn from Well Experienced Lecturers like Shehan Sir,"
Dayanijah Srimurganathan, is a Rare Multiple ACCA World Prize Winner the Country has produced. She is a student of Mr. Shehan Fernando,
who taught her subjects Performance Management and Taxation.