Excel In A Career In Accounting & Finance with ACCA @ Alpha Business School
ACCA 🇬🇧 – the Association of Chartered Certified Accountants was formed in 1904. ACCA is not only a global professional accounting body it is also the biggest and fastest-growing international accountancy organization offering the globally most in demand professional qualification in the world. ACCA has 219,000 members and 527,000 students across 179 countries.
ACCA provides a firm beginning for students and professionals for careers in Accounting, Finance, Business Management, Auditing, Tax Consulting while also focusing on areas such as Marketing, Human Resource Management, Information systems & Technology, Business Law, Ethics, Business Valuation, Treasury Management, Investment Banking, etc.
Those who follow the ACCA program will receive a range of qualifications that include
⦿ Diploma in Accounting and Business
⦿ Advanced Diploma in Accounting and Business
⦿ B. Sc (Hons) degree in Applied Accounting awarded by Oxford Brookes University – UK
⦿ The ACCA Professional Qualification
⦿ MSc in Professional Accountancy awarded by University of London – UK
WHY ACCA ?
✓ Gain a degree plus a professional qualification without doubling your work load
✓ Number of entry and exit options
✓ Cost effective option for further studies
✓ Flexible registration options
✓ Global recognition
✓ Many employment opportunities and supported by top employers
✓ Comprehensive coverage of all study area needed for a business qualification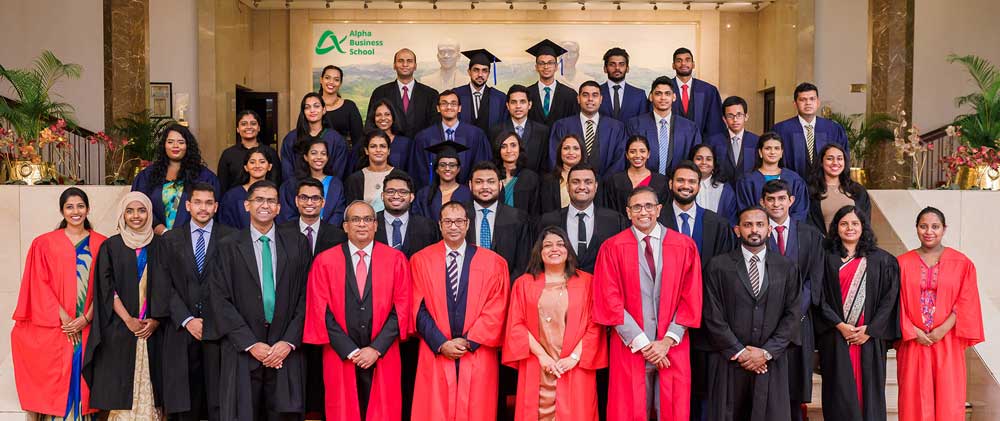 ACCA & B.Sc with Sri Lanka's Most Experienced* & Qualified tutors @ Alpha Business School.
*Based on Cumulative Hours of Lecturing

ACCA 🇬🇧 ඩිප්ලෝමාවක් සමඟ ඔබේ වෘත්තීය ගමන ආරම්භ කරන්න​.
සාර්ථක වෘත්තීයක් සඳහා ලොව පිළිගත් ගණකාධිකරණ ඩිප්ලෝමාවක් ලබා ගන්න​.